Seamless underwear: This lingerie will not stand out under clothing
Absolute invisibility and ultimate comfort
This seamless bra will be invisible under clothing. Who does not know it: You have just bought figure-hugging fashion pieces when the underwear is emerging. As if that wasn't annoying enough, the lingerie also tweaks. Stop it! We discovered seamless lingerie that promises absolute invisibility and ultimate comfort! 
Seamless Bra
There's hardly anything more annoying than a badly fitting bra, right? You can feel it on your skin all day and can't wait to get home and take it off. We are therefore all the more delighted that we have discovered a seamless bra that not only promises a feel-good factor but is also almost invisible under figure-hugging fashion pieces. The "Zero Feel Bralette" from Sloggi met by the manufacturer but this comforting promise.
Thanks to the super-soft material, you won't even feel the bra. But that's not all: thanks to the seamless processing, the bra stands out even under very tight-fitting shirts or dresses. Instead, the model conjures up a breathtaking, feminine silhouette with removable push-up pads!
Seamless underwear: These briefs do not stand out 
We have also found a pair of panties to match the invisible bra: The "Zero Briefs" by Sloggi made of super-light microfiber feels like a second skin. According to the manufacturer, the slip is therefore absolutely invisible under tight clothing. Because the seamless waist and legends are not visible even under thin fabrics. 
Another plus point: Thanks to the soft velvet lamination on the ends, there is no slipping. The panties stay on your hips and emphasize your curves.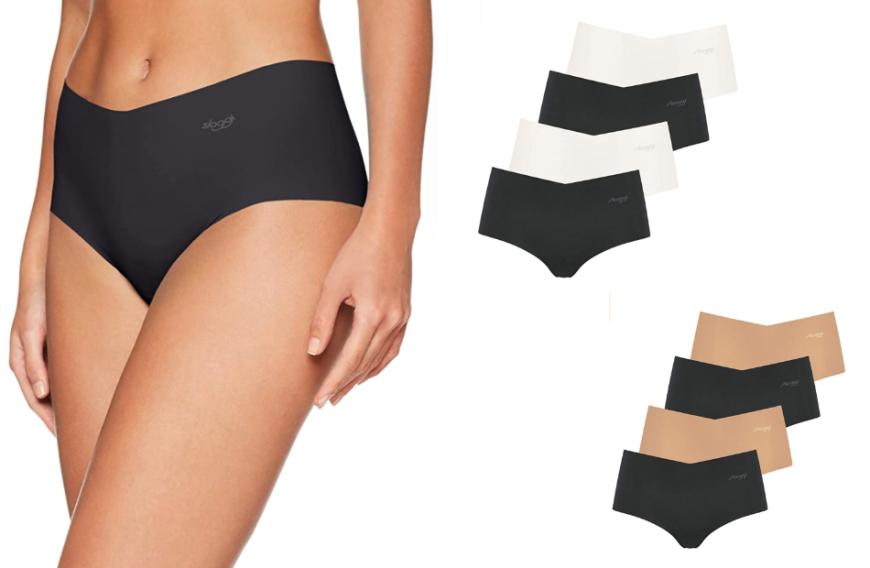 This lingerie is also seamless and comfortable